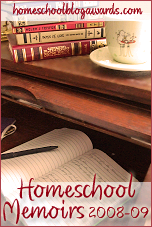 My weekly assignment is to tell my (hopefully) new readers a little about myself. For those of you who have been reading this blog for quite some time, you may feel you already know too much. But, I guess it's a fair way to warn people so they can decide whether or not they really want to come back!
As you can see in the sidebar, I am happily married to the love of my life. Eric and I have been married for almost 14 years. Our anniversary is 20 days, 3 hours, and 20 minutes away. But, who's counting?
Both of us went to the same Christian school, though he's much older than I am. In fact, we're attending his
20 year
reunion this Saturday. MUCH older.
OK - only 3 years. But, at one time that was a huge difference. But, that's another post. If you want to read a little bit about our courtship, feel free to go
here
and
here
.
Anyway, we were married 3 years before we had our first of seven children. However, it was during our first year of marriage that we had our first serious introduction to homeschooling and the conservative mindset that often accompanies it. When we saw, firsthand, the results, we knew we wanted to raise our children the same way.
Actually, Eric was sold on the idea first. He told me, "I think we're going to homeschool our kids." I said, "
What?!
" Once he told me we'd be in it together, then I was sold as well!
Shortly after we became parents, we moved back home to where we were raised. My husband is partner with his father on the family farm and we are blessed to live in the farmhouse where our children can see what daddy does everyday. Yes, it's often a distraction during the school day when the tractors and combines are driving around, or when a
rooster needs to be put to death.
But, it's a wonderful place for our children to grow up. It's also a wonderful place for Eric and I to take evening strolls when the children are all in bed and quiet. Well -- in bed.
I guess people would call us conservative Christians. We just try to look to the Bible for answers and for direction. We belong to, what we believe, is the best church in the world. Our church family is a major part of our lives and most of them homeschool which results in a wonderful "support" group. This year, another mom and I are beginning a homeschool cooperative at our church. We are very excited about this venture. Our children will be able to benefit from the gifts and skills that other parents may have that their own do not have or have the time for.
There is way too much about me for me to post here, just as the case would be for anyone. But, the more time you spend here at Love & Rewards, the better you'll get to know me. I'm not saying that's a good thing, but it's a fact. I love to have fun, but I enjoy meditating on issues pertaining to marriage, family, and scripture. Therefore, my blogs often result in humor sprinkled with truth.
As far as our homeschooling, I'd like to say that we fit the idealistic image of the always happy, peaceful, and bright homeschool family. Some days are indeed wonderful. Many, however, are just plain challenging. The baby screams, the 2 and 4 year old run around loudly, the older ones lose pencils and get a brain cramp on simple math facts.
I, of course, take everything in stride and with a smile.
Ooops - sorry. That was Julie Andrews.


I'm
the one who gets frustrated and find that I'm at the end of my rope by 10:00 a.m. - especially on days when I have neglected to truly seek God's face. Homeschooling has challenged me in my growth as a Christian. I have truly found that without God, I am nothing and I can do nothing.
Without faith, it is impossible to please Him
. I am finding that instead of trying to hang on to the aforementioned "rope" throughout the school day, it is better to hold on to God and keep my eyes on Him.
To sum up who I am - I am nothing. God is all in. I'm a sinner saved by grace, married to another sinner saved by grace, raising and schooling little sinners - some who are saved by grace and others we pray will be one day soon.
That
is who I am.