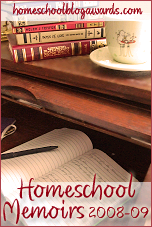 I'm a pretty steady person when it comes to curriculum. There are people who do a little bit of everything and there are those who change their curriculum annually. I like to find a curriculum and stick with it.
Well, for at least 3 years.
When our oldest began school, we used
Rod & Staff
. It was godly and it was
cheap
! Two good reasons to choose a curriculum, right? However, half-way through his 3rd grade year, the black and white, page after page of rote math problems were getting to him. I'm not one to have the kids make the decisions, but I was beginning to see that he (and my other children) needed something else - something a bit more, dare I say it? -
fun. Shocking, I know.

Somewhere along the line, I had read how a former homeschooler mentioned that, as an audio learner, she would have benefited greatly from the dvd programs available today. As my oldest is an audio learner (and, therefore, highly distracted by noise), I grabbed a hold of that bit of information. I began to research the dvd programs offered by A Beka and BJU. My husband and I fell in love with BJU and the fact that they offered a more inexpensive satellite version really sold us!

So, 3 years ago, we began BJU HomeSat. Absolutely LOVE it! There was some starting off costs - buying a decent television, some portable dvd players, and a DVR (a dvd player and recorder with a hard-drive). Our children have favorite teachers as well as teachers they don't like as well - just like they would in a school setting. The great thing about the BJU teachers is that they aren't just videotaped in a classroom - they are teaching the individual child at home. This allows them to do some really cool projects, experiments, and interviews that would not be possible in a classroom.

Unfortunately, we got notice a few weeks ago that BJU will no longer be providing HomeSat after this school year. We found out one day after our new, non-returnable, too-much-to-mention DVR arrived. Oh well. We are recording classes for future use and are hoping to finish elementary school via the dvds.

BJU offers these satellite programs on dvd - for one price you get all of the books (teacher's editions, included) and all of the classes without the hassle of recording (my husband spends about 6 hours total every week editing and burning down the dvds). However, that one price is a bit high for those of us with several children.

Interestingly enough, our oldest child, for whom we subscribed to the satellite in the first place, has begun A.C.E. this year. So far, he enjoys it. Of course, it's been two whole days, but, we take it one day at a time. Why the change? Mike is on a three month grace period. If school here at home doesn't improve (i.e., his attitude, the distractions of younger siblings playing, etc), we are seriously contemplating enrolling him into a small private school after Christmas. This school uses the A.C.E. curriculum. We wanted Mike to get used to the curriculum so that, if he does attend the school, that adjustment will have already been made.

This year, we are also joining a brand new homeschool cooperative at our church. This will take care of their Phys. Ed. and art requirements as well as teaching my children sign language, Bible, music appreciation, and get some Math review for those who need it. We are very excited about this opportunity for our children to learn more in these areas that are often forgotten about due to time and lack of knowledge/skill.

Every family - every child - is different. BJU & A.C.E. may work for me while Rod & Staff or A Beka works for you. Some families embrace a homeschool cooperative while others will steer far from them for various reasons. I am glad to learn from others - especially this year as we pray about what to do in the 2009/2010 school year. Comments on what has worked for you in the past are appreciated!

Happy schooling to all of you!