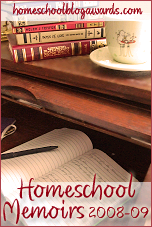 I'm really late with this one, but there were too many other fun things to write about and then I got to go away with the love of my life this weekend. Just for inquiring minds - I think it was the most enjoyable romantic get-away we've had in our 14 years of marriage. We didn't go far, but just getting a hotel away from the duties of home and spending time together without interuption was priceless!

Anyway...back to my assignment. We're supposed to let everyone know what we are doing new this homeschool year. As we only changed curriculum for one of our children, I am choosing to inform you all of something new that we are doing which involves all of our students.
This year, we have "joined" a homeschool co-op. I say "joined" because the co-op is brand new. For years it has been my desire to begin a homeschool co-op at our church. Our church is made up of homeschool families and I thought it would be a great thing if we could pool our knowledge, skills, and resources as parents and bring them together to further our children's education (Romans 12:4-6).
The story of our homeschool co-op's origin is a long one - I won't bore you with it. But, by the grace of God, a seemingly impossible dream has come to fruition this year. We have gathered a few officers and several wonderful teachers. For legalities, etc., we opened this co-op to only members of our church. Amazingly, we have over 80 students this first semester! Obviously, this was something other families were looking for, as well.
What classes are offered to our students this year?
K4-2nd grade - Art, Phys. Ed (following directions, group games, etc.), and Fun with Music
3rd - 6th - Sign Language, Math Review, Art, Crochet, Phys. Ed. (volleyball)
7th-8th - Sign Language, Math Review, Art, Crochet, Phys. Ed. (training to run a 5K)
9th-12th - Basic Electronics, Home Ec. (sewing - this course will become Household Economics during the 2nd semester - learning to make and follow a budget for home and small business), The American Constitution, Sign Language, Math Review, Phys. Ed (training to run a 5K)
2-3 year olds - Bible/Music, Art, Phys. Ed.
H.O.P.E. (Helping Our Parents Educate) begins at 10:00 every other Thursday. The first 20 minutes of the day are spent together as we say the Pledge of Allegiance to the American and Christian flags, have a devotional, and then announcements. After that, classes are 40 min. each, with a half-hour lunch time from 12:00-12:30 .
Our first meeting was this past Thursday. My children had a wonderful time and were excited about doing their assignments as soon as they got home! I have had many wonderful reports about how much all of the students enjoyed it (including the teenagers!) and that many of them are very much looking forward to our next meeting.
As homeschool moms, our time and resources are limited when we attempt to teach our children alone. By being involved in a cooperative with other like-minded families, we are able to use our individual skills to benefit many other families while we benefit from their skills and knowledge, also. In the process, our children are motivated to grow in knowledge, encourage their peers, and have fun while they learn in a different setting every couple of weeks.
"For as we have many members in one body, and all members have not the same office: So we, being many, are one body in Christ, and every one members one of another. Having then gifts differing according to the grace that is given to us..."
How grateful we are to God for this new experience this year!