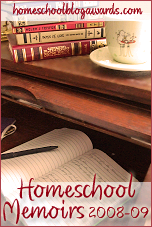 I've skipped the last couple of assignments as they either didn't pertain to my life very much or I just didn't have a whole lot of time. This week, I'm supposed to write about snacks my kids like to, well, snack on.
At first I wondered what was so interesting about the snacks homeschool children consume. But, as I thought about it, I realize that healthy snacks or home-made treats from mom are a novelty in this age of after-school programs and day care. I have the precious blessing to make lasting memories with providing a simple thing such as an afternoon snack for my children.
We don't have snacks every day and when we do, it's often "on the go" - i.e. take an apple and go on outside. My kids would snack all day if I let them. You would think I never fed them with all the begging for food they do. When I do give in to their pleas for nourishment, they are often happy to fill up on apples, bananas, carrots, or some crackers. If I get a chance to make cookies, they love getting a chance to test one as soon as it cools down enough.
We are beginning the best season for snacking. During the late fall and throughout the winter,
I use the fresh cow's milk from a farmer friend of ours and we make the best home-made hot chocolate in the world. Munching on some home-made cookies (oatmeal chocolate chip, pumpkin chocolate chip, or just your basic chocolate chip), apples, or our favorite popcorn along with the warm beverage is a loved tradition at our house on cold winter afternoons.
Snacks. A simple thing. Something we see as ordinary. But, it's one of those little things that bring a sparkle to our children's eyes and I'm grateful to be home to see those sparkles!